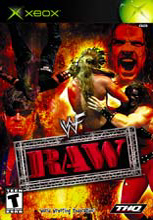 The lights dim, the crowd is silent and hearts pound in anticipation. And then it happens, the most spectacular pyrotechnic show ever witnessed. 50,000 fans come to life as you casually strut down to the ring for one of the biggest matches in history. Out of nowhere, the Brahma Bull charges with a chair in hand. It's too late, no time to react. Instinct takes over and you do the only thing possible, duck. The Brahma Bull narrowly misses with the chair and tumbles into the crowd. You pursue with a vengeance allowing nothing to stand in your way. Not even the fans.

Experience the thrills of the WWF like never before in WWF: Raw for the Xbox. From "The People's Elbow" to the "Stone Cold Stunner", WWF: Raw features unsurpassed realism and highly-detailed graphics. Play as almost 50 WWF Superstars including The Rock, Stone Cold Steve Austin, The Undertaker and Triple H as you fight to win the most illustrious title in sports-entertainment, the WWF Heavyweight Championship!!!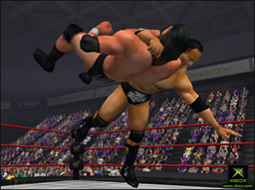 Developed by THQ/Anchor exclusively for the XBox, WWF: Raw promises to be one of the hottest games of the year. After its release (slated for February 2002), this site will be primarily a Create-A-Wrestler site, but until then, I'm planning on trying to provide you with up-to-date news, info, and even rumors. So, enjoy the site, and let me know what you think by leaving me some feedback in my guestbook. Thanks, and enjoy the site.


---


"UNITED WE STAND"




This website is in no way associated with The World Wrestling Federation, Microsoft XBox, or THQ/Anchor.
World Wrestling Federation, Raw Is War, and all related entities are property of World Wrestling Federation Entertainment, Inc.
XBox is property of the Microsoft Corporation.

This website is for entertainment purposes only.
This site is best viewed using Netscape Navigator 4.0 or higher (800 X 600)
©2001 - Christopher Morris (creator/webmaster)